Zinzino Balance Oil
Regular price
Sale price
R 965.00
Unit price
per
How do I take it?

Consume liquid as is for maximum benefit. Dosage is dependent on your weight, which is why this blend is so effective.

Best results are 0.15ml x kg of body weight every day.

All dosage information is outlined on the product label
Benefits

• Contributes to normal brain function as the daily dosage contains 700 mg DHA


• Contributes to a normal immune system as the daily dosage contains 20 μg Vitamin D3


• Helps maintain sufficient levels of EPA and DHA in your body


• Helps maintain optimal Omega-6:3 levels in your body


• Helps maintain polyphenol levels in your body to protect blood lipids from oxidative stress


• Supports healthy and normal eye function as it contains 700 mg DHA


• Contributes to normal bones11, muscle function, normal teeth and cell division since the daily dosage contains 20 μg Vitamin D3


• Supports normal blood triglyceride levels, normal blood pressure and normal blood calcium levels10

What's inside?

Fish Oils (Omega 3's DHA, DPA, & EPA)
Cold-pressed Olive Oil
Mixed Tocopherols (Antioxidants and Vitamin E)
Natural Orange, Lemon, Mint & Aroma
Vitamin D3 (Cholecalciferol)
Omega 7
Omega 9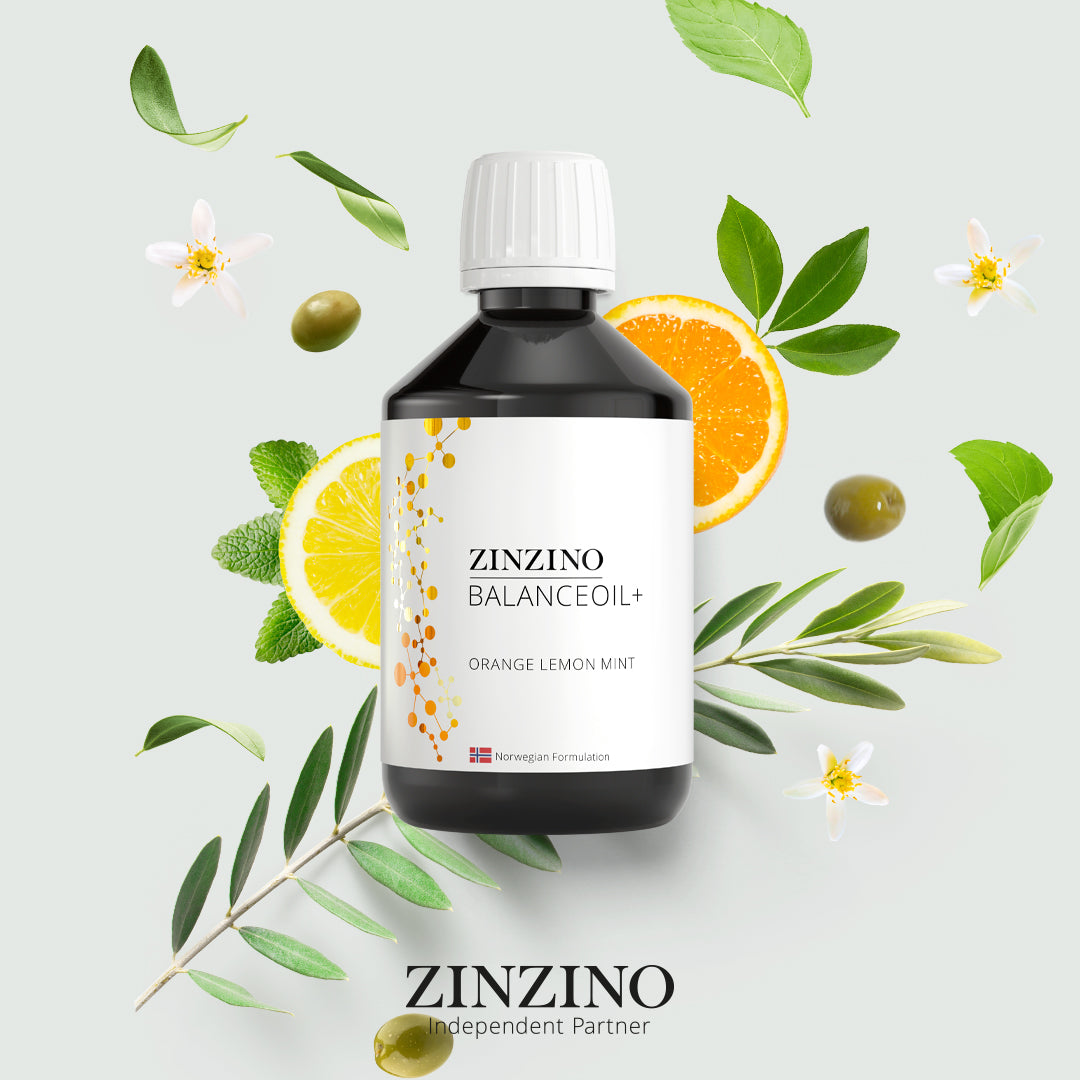 Description
Active Ingredients
Benefits
Zinzino Balance oil is one of the world leaders in Omega supplementation.

Omega 6's cause inflammation in your body. Omega 3's decrease inflammation & is needed for the health of EVERY cell in your body.
An optimal ratio of Omega 6 & 3 is 3:1, however, the average South African is sitting at an alarming 25:1. This is a disease-causing level.
Globally, the average Omega-6:3 ratio for people not taking an Omega-3 supplement is 25:1 for the USA and South Africa, 12:1 for Northern Europe, and 15:1 for Europe, as revealed by researching the world's largest database of essential fatty acids, with 600,000+ tests analyzed at the independent laboratory, Vitas Analytical Services. After taking BalanceOil+ products for 120 days, the average ratio in these areas will return to an optimal balance of 3:1 or below.
Fish Oils (Omega 3's DHA, DPA, & EPA)
Cold-pressed Olive Oil
Mixed Tocopherols (Antioxidants and Vitamin E)
Natural Orange, Lemon, Mint & Aroma
Vitamin D3 (Cholecalciferol)
Omega 7
Omega 9
Contributes to normal brain function as the daily dosage contains 700 mg DHA
Contributes to a normal immune system as the daily dosage contains 20 μg Vitamin D3
Helps maintain sufficient levels of EPA and DHA in your body
Helps maintain optimal Omega-6:3 levels in your body
Helps maintain polyphenol levels in your body to protect blood lipids from oxidative stress
Supports healthy and normal eye function as it contains 700 mg DHA
Contributes to normal bones11, muscle function, normal teeth and cell division since the daily dosage contains 20 μg Vitamin D3
Supports normal blood triglyceride levels, normal blood pressure and normal blood calcium levels10