Brain Boost Bundle
Regular price
Sale price
R 2,999.00
Unit price
per
How do I take it?

You can take these at anytime throughout the day however our recommendations for maximum benefit per the following:

GutShield+ in the morning

StressShield+ around Midday

DetoxShield+ in the evening

Balance Oil with meals

We recommend at least a 2.5 hour break between shields


Ultimately, they are designed to suit your lifestyle so feel free to adjust to what works best for you


All our blends are excellent to break a fast with or to sip throughout the day.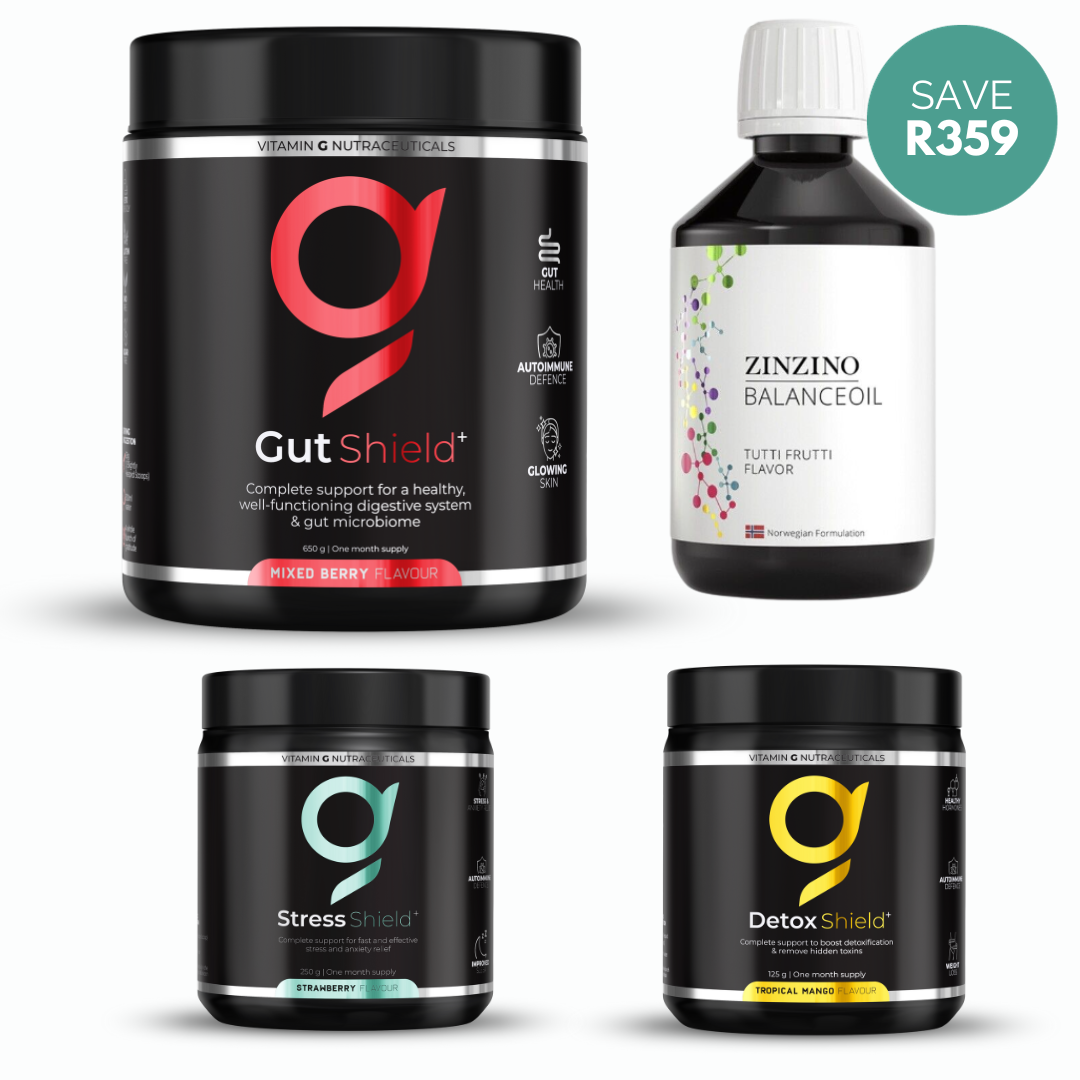 Description
Common Conditions
What's in the Box
Save Money, Get Healthy!

Did you know that conditions such as Alzheimer's actually begin in your 20s, even though you only notice outward symptoms much later in life?

This is why it is never too early or too late to begin looking after your brain health. Brain health encompasses both physical and cognitive function, as well as emotional well-being and here at Vitamin G, our brain bundle elevates both.

Elevate your cognitive function and mental clarity with our Brain Boost Bundle. This specialized collection, featuring GutShield, StressShield, DetoxShield, and Zinzino Balance Oil, is designed to enhance your brain health from various angles, with the added benefits of Vitamin D3 in each blend.

🍃 GutShield - Embrace the power of the gut-brain connection. GutShield supports a healthy gut microbiome, which is essential for optimal brain function. Improved gut health leads to better neurotransmitter production, enhanced mood, and sharper mental clarity.

🌼 StressShield - Chronic stress can impair cognitive abilities. StressShield offers a natural way to reduce stress and anxiety, thus protecting and enhancing brain function. Its calming effect fosters improved focus, memory retention, and overall mental performance. StressShield also provides vital neurotransmitter to ensure optimal mental health & brain function.

🌟 DetoxShield - Toxins can negatively impact brain health, efffecting both your brain function and your emotional well-being. DetoxShield aids in the detoxification process, particularly focusing on liver health, crucial for clearing out toxins that can affect mood & cognitive functions. Feel refreshed, clear-headed, and ready to tackle mental challenges.

🌊 Omega 3 Balance Oil - Omega-3 fatty acids are vital for brain health. Our Zinzino Balance Oil, rich in high-quality Omega-3s, supports brain cell structure and function, enhancing cognitive abilities and promoting overall brain health.

Each product in the Brain Boost Bundle contains Vitamin D3, further supporting brain function and overall well-being. This bundle is your comprehensive approach to nurturing your brain, boosting cognitive functions & mental health, and maintaining mental agility. Unlock your brain's full potential with the Brain Boost Bundle!
The active ingredients have been shown to assist with a variety of common conditions and symptoms. The key is effective doses and combinations to maximize bioavailability and efficacy! Having powerful ingredients expertly designed can result in alleviating these symptoms allows you to live a full and happy life.

Benefits:
Greater sense of overall well-being
Improved sleep
Improved Mood
Decreased stress & anxiety
Boost weight loss
Decrease chronic inflammation
Increased energy
Improved omega 6:3 ratio
Enhanced mental energy & clarity
Eliminate digestive & IBS symptoms
Decrease cravings and food sensitivities
Each product in the Brain Boost Bundle contains Vitamin D3, further supporting brain function and overall well-being. This bundle is your comprehensive approach to nurturing your brain, boosting cognitive functions & mental health, and maintaining mental agility. Unlock your brain's full potential with the Brain Boost Bundle!

This bundle includes:
1 x Gut Shield
1 x Stress Shield
1 x Detox Shield
1 x Zinzino Balance oil

🍃 GutShield - Embrace the power of the gut-brain connection. GutShield supports a healthy gut microbiome, which is essential for optimal brain function. Improved gut health leads to better neurotransmitter production, enhanced mood, and sharper mental clarity.

🌼 StressShield - Chronic stress can impair cognitive abilities. StressShield offers a natural way to reduce stress and anxiety, thus protecting and enhancing brain function. Its calming effect fosters improved focus, memory retention, and overall mental performance. StressShield also provides vital neurotransmitter to ensure optimal mental health & brain function.

🌟 DetoxShield - Toxins can negatively impact brain health, efffecting both your brain function and your emotional well-being. DetoxShield aids in the detoxification process, particularly focusing on liver health, crucial for clearing out toxins that can affect mood & cognitive functions. Feel refreshed, clear-headed, and ready to tackle mental challenges.

🌊 Omega 3 Balance Oil - Omega-3 fatty acids are vital for brain health. Our Zinzino Balance Oil, rich in high-quality Omega-3s, supports brain cell structure and function, enhancing cognitive abilities and promoting overall brain health. All while saving R 195