Fertility Support Bundle
Regular price
Sale price
R 3,099.00
Unit price
per
How do I take it?

You can take these at anytime throughout the day however our recommendations for maximum benefit per the following:

GutShield+ in the morning

StressShield+ around Midday

DetoxShield+ in the evening

Balance Oil with meals

We recommend at least a 2.5 hour break between shields


Ultimately, they are designed to suit your lifestyle so feel free to adjust to what works best for you


All our blends are excellent to break a fast with or to sip throughout the day.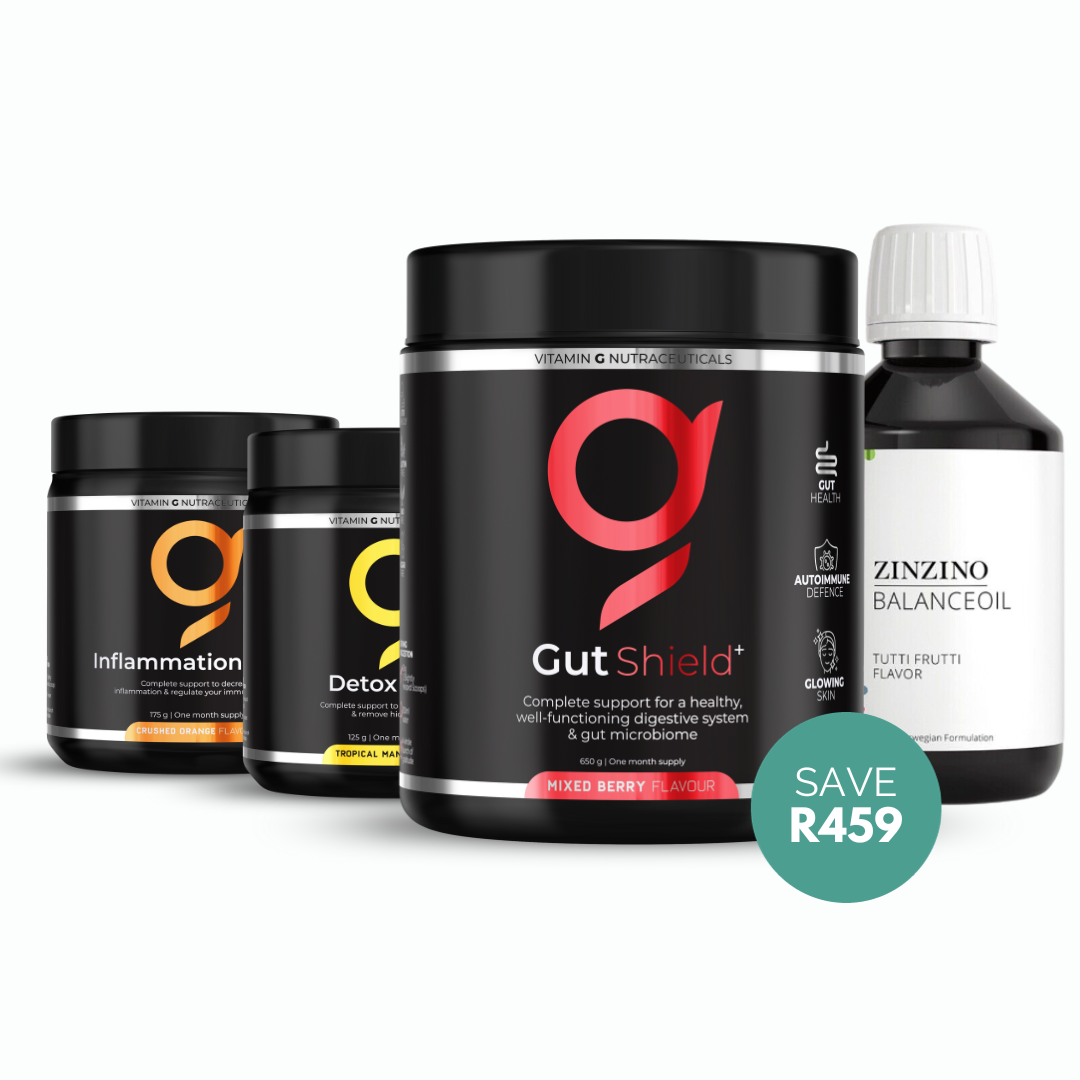 Description
Common Conditions
What's in the Box
Embrace your journey to parenthood with the holistic support of our Fertility Support Bundle!

Specially designed to address key factors that impact reproductive health, this bundle combines InflammationShield, GutShield, DetoxShield, and Balance Oil Omega 3. Each of these blends plays a crucial role in creating an optimal environment for fertility & provides key nutrients such as Vitamin D, Folate & Omega 3's.

🍃 GutShield - Your gut health is surprisingly linked to fertility. GutShield helps in balancing the gut microbiome, improving digestion, and enhancing nutrient absorption, all of which are essential for hormonal balance and a healthy reproductive system.

🌼 DetoxShield - Toxins can be detrimental to fertility. DetoxShield supports your body's natural detoxification processes, particularly in cleansing the liver, which is vital in hormone regulation. By removing harmful toxins, this blend aids in creating a cleaner, more conducive environment for conception.

🌟 InflammationShield - Chronic inflammation can significantly affect fertility. InflammationShield is formulated to reduce systemic inflammation, thus creating a more favorable internal environment for conception. It eases the body's inflammatory response, promoting overall reproductive health. This blend also offers B vitamins such as folate, in a highly absorbable form to promote a healthy pregnancy.

🌊 Omega 3 Balance Oil - Omega-3 fatty acids are crucial for hormonal balance, inflammation reduction, and overall reproductive health. Our high-quality Balance Oil Omega 3 provides these essential nutrients, supporting cellular health and improving conditions for optimal fertility.

Together, these products form the Fertility Support Bundle, offering a comprehensive approach to improving your chances of conception. Whether you are just starting your fertility journey or have faced challenges along the way, this bundle is designed to nurture, balance, and prepare your body for pregnancy.
The active ingredients have been shown to assist with a variety of common conditions and symptoms. The key is effective doses and combinations to maximize bioavailability and efficacy! Having powerful ingredients expertly designed can result in alleviating these symptoms allows you to live a full and happy life.

Benefits:
Decrease inflammation
Balance blood sugar & support insulin resistance
Improve gut health & IBS
Boosts weight loss
Provides vital nutrients needed for fertility & a healthy pregnancy
Improves hormone health
This bundle includes:
1 x Gut Shield
1 x Inflammation Shield
1 x Detox Shield
1 x Zinzino Balance oil

🍃 GutShield - Your gut health is surprisingly linked to fertility. GutShield helps in balancing the gut microbiome, improving digestion, and enhancing nutrient absorption, all of which are essential for hormonal balance and a healthy reproductive system.

🌼 DetoxShield - Toxins can be detrimental to fertility. DetoxShield supports your body's natural detoxification processes, particularly in cleansing the liver, which is vital in hormone regulation. By removing harmful toxins, this blend aids in creating a cleaner, more conducive environment for conception.

🌟 InflammationShield - Chronic inflammation can significantly affect fertility. InflammationShield is formulated to reduce systemic inflammation, thus creating a more favorable internal environment for conception. It eases the body's inflammatory response, promoting overall reproductive health. This blend also offers B vitamins such as folate, in a highly absorbable form to promote a healthy pregnancy.

🌊 Omega 3 Balance Oil - Omega-3 fatty acids are crucial for hormonal balance, inflammation reduction, and overall reproductive health. Our high-quality Balance Oil Omega 3 provides these essential nutrients, supporting cellular health and improving conditions for optimal fertility.

All while saving R 459