Ultimate Wellness Reset Bundle
Regular price
Sale price
R 3,749.00
Unit price
per
How do I take it?

You can take these at anytime throughout the day.

We recommend at least a 2.5 hour break between shields


Ultimately, they are designed to suit your lifestyle so feel free to adjust to what works best for you


All our blends are excellent to break a fast with or to sip throughout the day.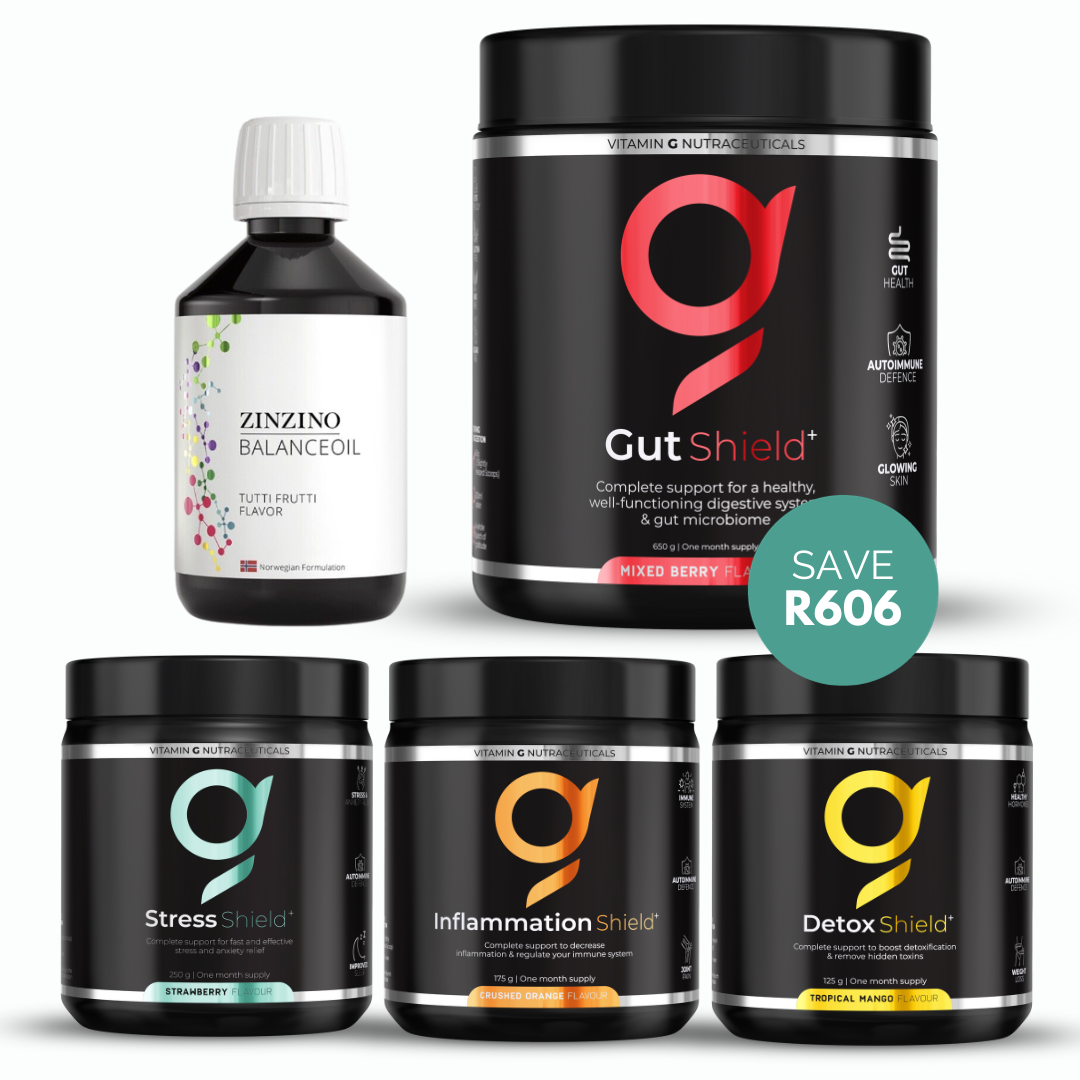 Description
Common Conditions
What's in the Box
Reset, rejuvenate, and thrive with the Ultimate Wellness Reset Bundle!

Embark on a transformative journey towards total wellness with our Ultimate Wellness Reset Bundle. This comprehensive collection, featuring GutShield, InflammationShield, DetoxShield, StressShield, and Zinzino Oil, is your holistic solution to reset and rejuvenate your body and mind.

The Ultimate Wellness Reset Bundle is designed not just to address individual symptoms but to synergistically work towards resetting your entire well-being. Whether it's your gut health, stress levels, inflammation, detox needs, or essential nutrient requirements, this bundle covers it all.

🍃 GutShield - A thriving gut is the cornerstone of good health. GutShield targets your digestive health, rebalancing your gut microbiome, enhancing nutrient absorption, and bolstering your immune system. Experience a new level of digestive comfort and overall vitality.

🌼 DetoxShield - Our environment exposes us to toxins daily. DetoxShield supports your body's natural detox pathways, particularly focusing on liver health – crucial for purifying your body from harmful substances. Feel cleansed, light, and revitalized.

🌟 InflammationShield - Chronic inflammation can quietly undermine your health. InflammationShield combats systemic inflammation, easing joint pain, reducing swelling, and promoting cognitive clarity. It's a powerful ally in maintaining a balanced, inflammation-free body.

🌼 StressShield - Modern life is synonymous with stress, which can take a toll on your health. StressShield is your remedy for the daily stresses of life, promoting mental calm, reducing anxiety, and improving sleep quality. Embrace a life of tranquility and balance.

🌊 Omega 3 Balance Oil - Essential fatty acids are key for overall health. Zinzino Balance Oil, rich in Omega-3, nourishes your body at a cellular level, reducing inflammation, supporting heart health, and enhancing brain function. It's the foundational element for a body in harmony.




The active ingredients have been shown to assist with a variety of common conditions and symptoms. The key is effective doses and combinations to maximize bioavailability and efficacy! Having powerful ingredients expertly designed can result in alleviating these symptoms allows you to live a full and happy life.

Benefits:
Decrease inflammation
Decrease joint and chronic pain
Boost weight loss
Improve mental focus and clarity
Increase energy
Eliminate digestive issues
Improve sleep
Overcome depression, anxiety, and low moods
Improves symptoms related to chronic and autoimmune diseases
This bundle includes:
1 x Gut Shield
1 x Detox Shield
1 x Inflammation Shield
1 x Stress Shield
1 x Zinzino Balance oil

🍃 GutShield - A thriving gut is the cornerstone of good health. GutShield targets your digestive health, rebalancing your gut microbiome, enhancing nutrient absorption, and bolstering your immune system. Experience a new level of digestive comfort and overall vitality.

🌼 DetoxShield - Our environment exposes us to toxins daily. DetoxShield supports your body's natural detox pathways, particularly focusing on liver health – crucial for purifying your body from harmful substances. Feel cleansed, light, and revitalized.

🌟 InflammationShield - Chronic inflammation can quietly undermine your health. InflammationShield combats systemic inflammation, easing joint pain, reducing swelling, and promoting cognitive clarity. It's a powerful ally in maintaining a balanced, inflammation-free body.

🌼 StressShield - Modern life is synonymous with stress, which can take a toll on your health. StressShield is your remedy for the daily stresses of life, promoting mental calm, reducing anxiety, and improving sleep quality. Embrace a life of tranquility and balance.

🌊 Omega 3 Balance Oil - Essential fatty acids are key for overall health. Zinzino Balance Oil, rich in Omega-3, nourishes your body at a cellular level, reducing inflammation, supporting heart health, and enhancing brain function. It's the foundational element for a body in harmony.

All while saving R 606