Gratitude Bundle
Regular price
R 2,693.00
Sale price
R 2,199.00
Unit price
per
How do I take it?

You can take these at anytime throughout the day however our recommendations for maximum benefit per the follwoing:

GutShield+ in the morning

InflammationShield+ around Midday

DetoxShield+ in the evening

We recommend at least a 2.5 hour break between shields


Ultimately, they are designed to suit your lifestyle so feel free to adjust to what works best for you


All our blends are excellent to break a fast with or to sip throughout the day.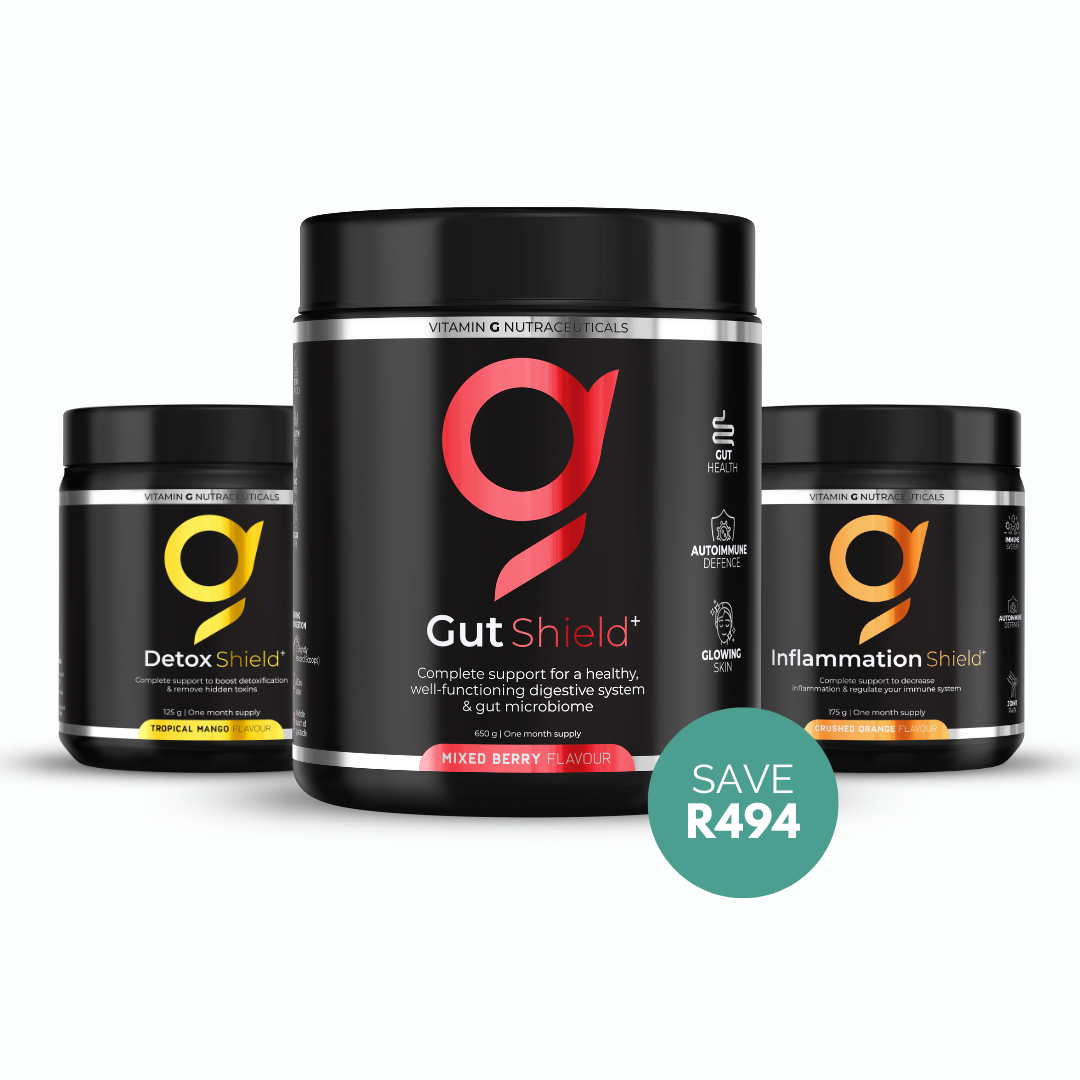 Description
Common Conditions
Our Blend
Save Money, Get Healthy!
If you think supplements can be expensive, think about how expensive illness can be - to your wallet and your life. The gratitude bundle give you access to to everything your body needs to heal your gut, boost your immune system, combat inflammation, detoxify and repair your liver to magnify your body to fight of illness and disease. Allowing you to start living on purpose and to your full potential
The active ingredients have been shown to assist with a variety of common conditions. The key is effective doses and combinations to maximize bioavailability and efficacy! Having powerful ingredients expertly designed can result in alleviating these conditions allowing you to live a full and happy life.
IBS
Crohn's & Colitis (IBD)
Fibromyalgia
Rheumatoid Arthritis
Lupus
Hashimoto's
Grave's Disease
Type 2 Diabetes
Alzheimer's
ADHD
High Blood Pressure
High Blood Sugar
PCOS
Depression
Muscular Sclerosis
Psoriasis
Serious about your health goals? Invest in your health and start seeing results

This bundle includes:
1 x Gut Shield
1 x Detox Shield
1 x Inflammation Shield

Ensure your body has what it needs to reset, repair, and thrive for whatever you through at it! All while saving R 494