Ultimate Thyroid Support Bundle
Regular price
Sale price
R 2,359.00
Unit price
per
How do I take it?

You can take these at anytime throughout the day however our recommendations for maximum benefit per the follwoing:

NAC+ 1 capsule in the morning and 1 in the evening

StressShield+ Best taken while the sun is out. Anytime before the evening is best

ThyroidShield+ Can be taken at any point during the day

Zinzino Oil Can be taken as per the instructions on the bottle

We recommend at least a 2.5 hour break between shields


Ultimately, they are designed to suit your lifestyle so feel free to adjust to what works best for you


All our blends are excellent to break a fast with or to sip throughout the day.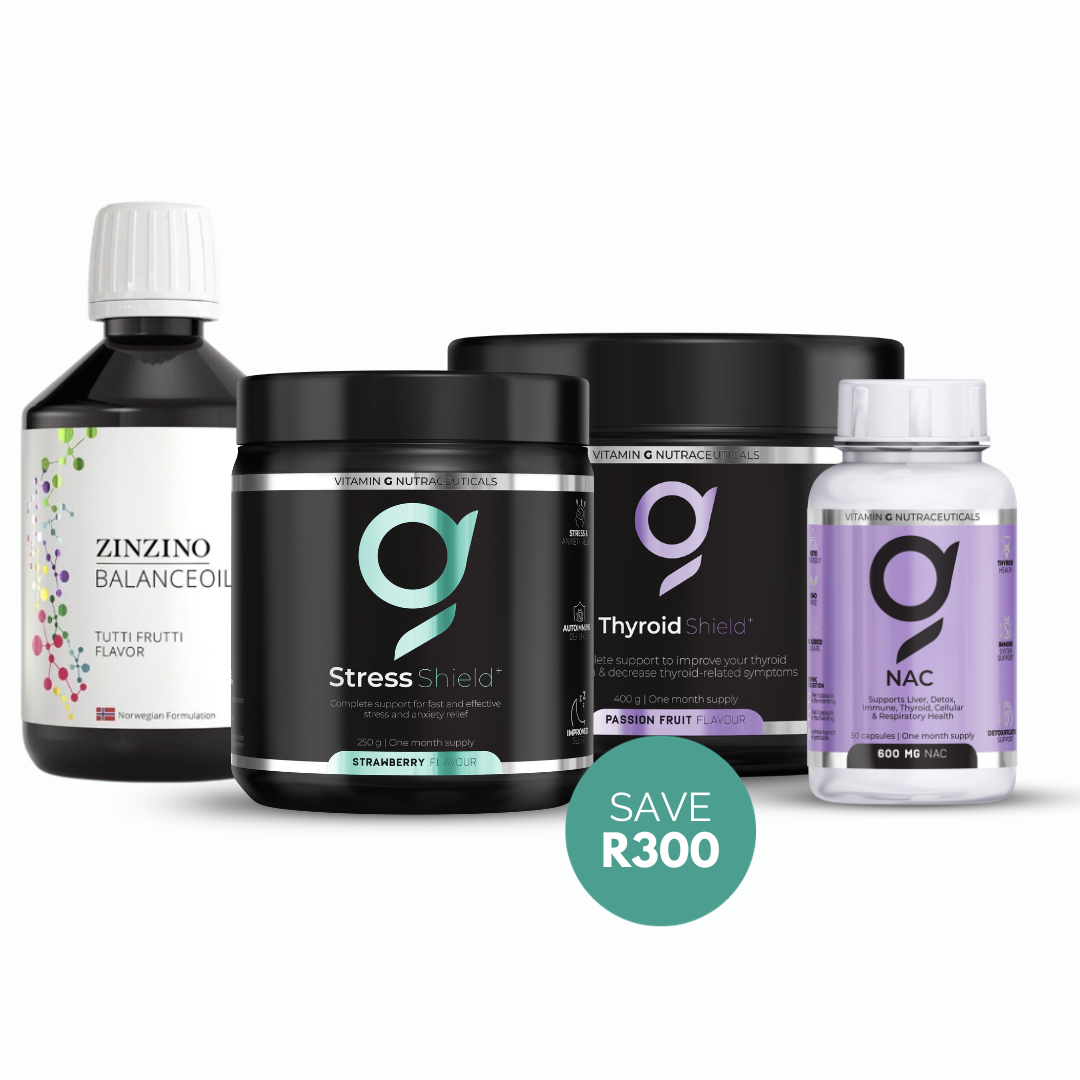 Description
Common Conditions
What's in the Box
Ultimate Thyroid Support!

Thyroid issues, including Hashimoto's & hypothyroidism, develop due to 4 main reason:

Gut issues, inflammation, a build upon hidden toxins & nutrient deficiencies. The trigger for these issues to progress into a full on condition, is often high stress levels. At Vitamin G we have formulated unique bleds that tackle each of these areas directly.

Experience comprehensive thyroid support with our Ultimate Thyroid Support Bundle, a holistic approach to thyroid health. This meticulously assembled collection includes ThyroidShield, NAC, StressShield, Balance Oil Omega 3 & Vitamin D Supplement, each contributing uniquely to support and enhance thyroid function.
The active ingredients have been shown to assist with a variety of common conditions and symptoms. The key is effective doses and combinations to maximize bioavailability and efficacy! Having powerful ingredients expertly designed can result in alleviating these symptoms allows you to live a full and happy life.

Helps to improve all thyroid-related symptoms, including but not limited to:
IBS and other digestive issue
Chronic pain and inflammation
Unexplained weight gain
Low energy levels
Brain fog
Depression, Anxiety, and Low moods
Insomnia
Supports Hashimoto's
Supports Grave's Disease
Supports Hyperthyroidism
Serious about your health goals? Invest in your health and start seeing results

This bundle includes:
ThyroidShield+ - A cornerstone for thyroid health, ThyroidShield is loaded with nutrients specifically selected to support thyroid function. It aids in balancing thyroid hormones, which can improve energy levels, stabilize weight, enhance mood, and contribute to overall well-being.

NAC (N-acetyl cysteine) - NAC plays a vital role in detoxifying and protecting the thyroid gland from oxidative stress. It also supports liver health, crucial for converting thyroid hormones into their active forms.

StressShield+ - Stress can directly impact thyroid health. StressShield is designed to alleviate stress and anxiety, which in turn can positively influence thyroid function. Its adaptogenic properties help in maintaining hormonal balance, essential for a healthy thyroid.

Zinzino Balance Oil Omega 3 & Vit D - Omega-3 fatty acids are key for reducing inflammation, which can affect thyroid health. Our Balance Oil offers a high-quality source of Omega 3s, promoting anti-inflammatory benefits and supporting overall hormonal balance.

Ensure your body has what it needs to reset, repair, and thrive for whatever you through at it! All while saving R 300